Product Showcase - Exterior
 Product Showcase - Exterior
As for the chassis itself, the Hyte REVOLT 3 has a rather attractive look at first glance. It looks a bit like an Xbox Series X, a mid-sized tower. It is made of a steel structure with metal panels, and you won't find any tempered glass.
The front has square cutouts in metal, and behind it, there's a fan filter. The panel is indented a little bit, unlike the others. At the bottom, you can find the I/O panel, but we'll get back to that topic on the next page. The overall quality is excellent. The following motherboard form factor is supported:
It measures 253 x 178 x 409 mm (L x W x H), which amounts to 18.4 l of volume. The weight is about 6.35 kg (with the power supply), and the case is perfectly stable even without everything inside.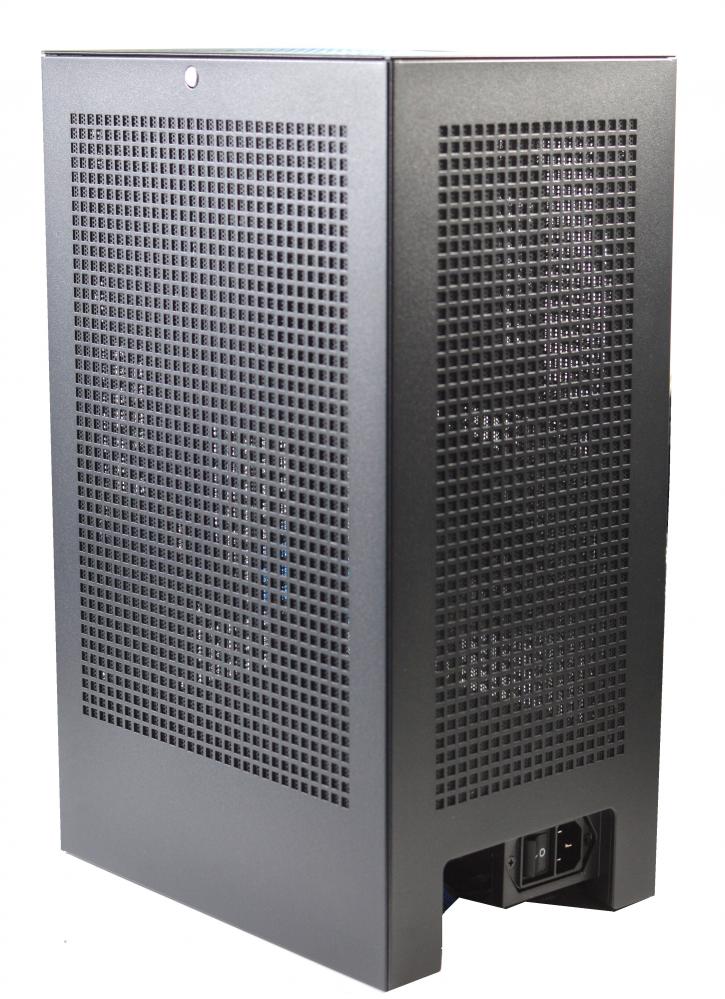 Both sides of the Revolt 3 have the exact cutouts as the other two panels (front/back) and the same type of dust filter as the rear of the chassis.
The top has a metal handle that may pop out with a gentle press. It can allow lifting to 30 lbs, which is a lot for an ITX system.
Additionally, you will find two little aluminum bars (that you may also pop out) — on the sides of the Revolt 3. Its purpose is to hold your headphones—it's a nice touch.
Hyte REVOLT 3 at the bottom has rubber feet and a sizable cutout that holds both the rear I/O panel and the power connection for the PSU.
A notch cut into the back of the case helps keep cables running out from the system neat and organized. Let's continue with the evaluation of the exterior.