Powr Consumption during overclocking
Overclocking and power consumption
What a lot of you do not realize that overclocking a processor can consume heaps of wattage. We put this to the test by monitoring power consumption with the processor in it's default setting and then compare to an overclocked 4,2 GHz configuration. Check this out:
Power Consumption
idle
100% CPU load
Core i7 870 default / eVGA 200
111
182
Core i7 870 (4.2 GHz) 1.4v / eVGA 200
159
322
The results are flabbergasting, when we stress the 4 (8 threaded) CPU cores 100% at default (Turbo on) we peak to only ~180 Watt for the default clocked Core i7 870.
But once we overclock towards 4.2 GHz ... the power draw all of the sudden passes 300 Watt (!) once we stress all CPU cores 100%. Stuff to think about before you start to overclock as the color green really goes red as when the processors are maxed out we have a power draw of 322W, and yes .. that with the GPU in an idle state.
We overclocked in the BIOS, but you can also make use of eVGA'a eLeet software utility directly from within windows of course.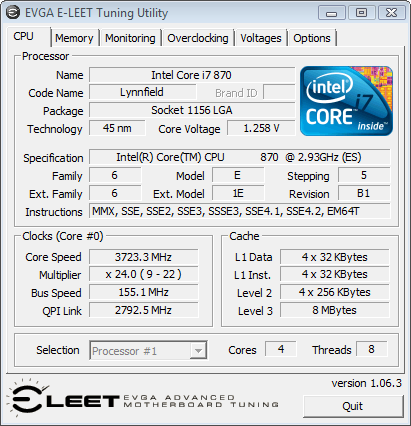 ELeet is based on CPU-Z

E-Leet allows for really easy overclocking within Windows.
Some generic overclocking rules -- should you buy the board, here are a couple of pointers. Always bare in mind you need excellent cooling if you take the processor into higher clock frequencies.