Page 6 - Dual Channel DDR
Dual Channel DDR memoryI've been telling it to you guys in the reviews for quite a while now, Dual Channel DDR memory .. it would boost performance significantly _if_ you have the right gaming rig for it. Well, Intel recently released their 865 and 875 chipsets (Springdale and Canterwood) and it is the bomb. Do this: combine a mainboard equipped with such a chipset, get yourself the new Pentium 4C series processor with 800 MHz Front Side Bus and equip that mainboard with Dual Channel DDR400 memory. The combination is the most powerful gaming rig I have tested to date.
A little while ago Albatron submitted the PX865PE PROII mainboard, actually before the new chipset where officially released. Back then I already had a feeling that this would get the new trend. I picked up a 2.8 GHz Pentium 4 C and 1 Gigabyte of  Dual Channel DDR memory for testing. Well .. the results you will notice today. 
Most recent motherboards only offer single-channel DDR400 support which only delivers half of the bandwidth of what the 800MHz FSB handles.  So if you are going to buy a new mainboards soon then please take it from me, make sure it support's Dual Channel DDR memory as it will boost your performance bigtime. So what is important to remember when you want Dual Channel DDR in your rig ? A few things .. you must buy modules with identical memory speeds or the memory will default to single-channel DDR speeds.  When using dual-DDR supported motherboards, the user should purchase two sticks of matching RAM rather than one stick of a larger size.
Intel for example has released the new 800MHz FSB processor family which we will use to test these modules with, but not many mainboards out on the market can support its really high bandwidth bandwidth.  The processor's (Pentium4 C generation) with 800MHz FSB offers a theoretical total of 6.4 GB/s of memory bandwidth. 
Many of the latest motherboards out there on the market are now featuring dual-channel DDR400 support.  Intel Springdale and Canterwood mainboard are the first of the chipsets to support dual-channel DDR400 for the Intel platform, others like SiS and VIA have chipsets either development or already support both DDR400 and pretty soon the 800MHz FSB bus.
This is a good one to remember .. two sticks of 256MB rated DDR400 will outperform one stick of 512MB DDR400).  In short, these are the requirements for using dual-channel DDR:
Both sticks of memory must be the same size.

Both sticks of memory must have the same type of memory chips.

Both sticks of memory must have the same speed/latency.

Single-sided and double-sided memory sticks can not be mixed.
Basically determine what amount of memory you want in your rig, 512 or 1 GB and buy 2x256 or 2x512 identical memory sticks from the same manufacturer. Several manufacturers also offer you guaranteed the same memory stick and sell it as Dual Channel DDR memory packages.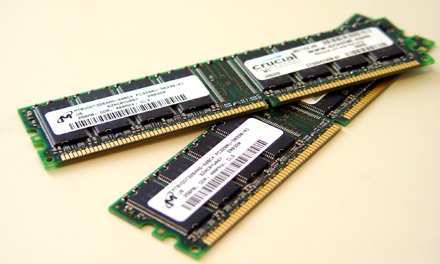 Dual Channel DDR memory rated 400MHz from Crucial