NVIDIA's VP4 Video processor - NVIDIA 3D Surround
NVIDIA's VP4 Video processor
Some news on the video processor side then. We are not going to explain Purevideo all over again but FERMI, aka GF100 aka GeForce series 400 will have the latest model 'VP4' video processor embedded, which actually is similar to the one used in the GT220/240/ION2 regarding video capabilities. The VP4 engine now also supports MPEG-4 ASP (MPEG-4 Part 2) (Divx, Xvid) decoding in hardware as an improvement over the previous VP3 engine such as used in ION based systems.
In short, NVIDIA can offload the decoding of pretty much any MPEG format, the only thing not supported is MPEG-1 which I doubt anyone still uses.
What is also good to mention is that HDMI audio has finally been solved. The stupid S/PDIF cable to connect a card to an audio codec, to retrieve sound over HDMI is gone. That also entails that NVIDIA is not bound to two channel LPCM or 5.1 channel DD/DTS for audio.
Passing on audio over the PCIe bus brings along enhanced support for multiple formats. So VP4 can now support 8 channel LPCM, lossy format DD+ and 6 channel AAC. One nag, Dolby TrueHD and DTS Master Audio bit streaming are not yet supported. Still, it's a huge step forward.
NVIDIA 3D Surround
Along with the new GPU also comes a new technology called NVIDIA 3D Surround -- which you likely read about from our CES reports.
3D Vision Surround allows you to play on three 3D displays simultaneously, and span your entire game across all three panels for a very immersive, rocking 3D environment. Of course, an idea carefully borrowed from ATI (Eyefinity) with the addition of the 3D Stereo part that is. Would ATI not have introduced Eyefinity, then NVIDIA would have never tried to integrate this technology. So who doesn't love competition?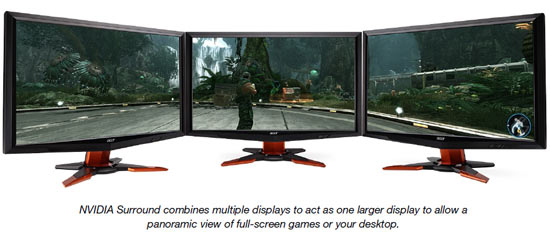 First off, you can also use this Surround technology in 2D mode too -- 3D Stereo with goggles is really not a requirement.
3D Vision Surround is officially launched alongside today's GeForce GTX 470/480 release. There is however good news for GeForce GTX 260, 275, 280, 285 and 295 owners. 3D Vision Surround will be supported on that series as well, all you'll need is a driver update, two cards and three monitors. Preferably with a 3D Vision kit of course.
So to recap: 3D Vision Surround offers 3D Vision support spanned across three displays, effectively allowing you to run three 3D displays simultaneously.
We mentioned this a paragraph or two ago already, there is a downside alright. SLI will be a requirement as the cards can only cope with 2 DVI outputs. This rule even applies to the GeForce GTX 470 and 480. So yes, two cards set up in SLI are a requirement, making gaming on three monitors definitely an expensive thing to accomplish. But granted, it really is a heck of a lot of fun though.

 3D Surround Stereo with three monitors
NVIDIA will include software controls for bezel correction allowing you to compensate for monitor bezel gaps. So to recap once more, NVIDIA 3D Surround is a derivative, much like ATI Eyefinity, which will also work with three monitors; surround vision with the 3D goggles is not a requirement, an SLI setup with GT200 or GF100 cards however is.