Page 4
The photo booty shoot
Who needs internet erotica when you can look at images like these, huh? Gawp at many photo's in the image gallery.
A new design box compared to the previous model. The Enermax Galaxy 1000 Watt DXX and it's standard cardboard box. Well, that should get you a pretty good impression of what's inside that box. Mind you that if you are on the lookout for this product, the DXX version is the new model.
Details, everything is carefully packaged, the PSU nice bubble wrapped with plastic. Looks good.
The power supply comes with a power cable, mounting screws, manual, and pouch for all the modular cables. The PSU can accept 110V (USA) and 230V (Europe). You'll get all the cables you can possible think of.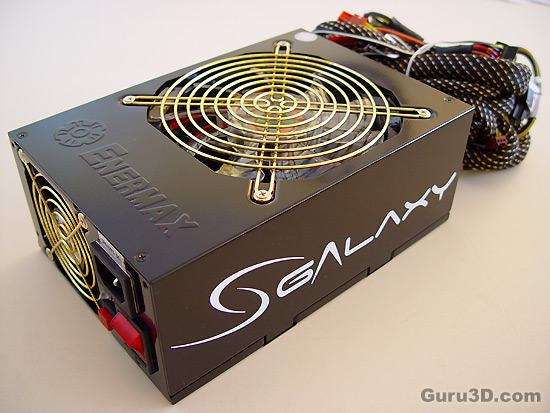 The fixed cables at the back-end have a length of ~23 inches, making the Galaxy DXX a fine option for those who wish to place the PSU in the bottom of the case (Lian-Li cases use this a lot) or require longer than average power supply cables. All the way on top we see a 135mm fan, utilizing Smart Fan technology.