Camera | lights ... action
Oh did I mention that the radiator has LED lit fans. This photo has a little too short shutter time.
There, quite a hulk color isn't it ? Moving onwards, check for leaks, double check and after a few minutes triple check. Once confident that all is secure you can connect the other components to the PSU and turn on the PC. To date we have had no leaks whatsoever.
The tubes and coolant inside them glow in UV light, so the system case with Aquagate Max inside will  look very attractive and even breath-taking if you add a black-light to your PC.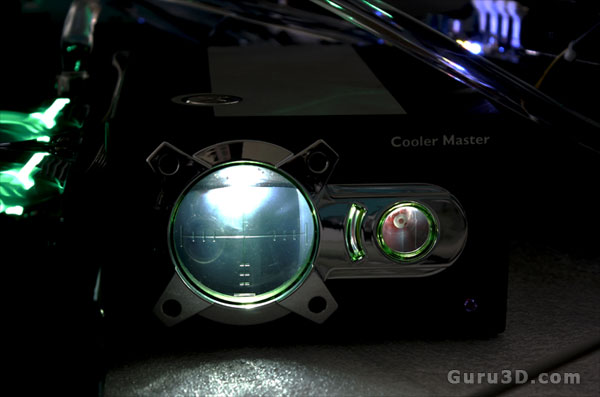 The reservoir has a pair of LEDs inside to illuminate the level window and the flow indicator when its dark in the room. You have no fricking idea how hypnotizing it is to watch "the eye of the Aquagate". Very soothing. Don't forget, the first half hour be observant, always check for leakage. Our kit was faultless, free of leaks. And we'd expect nothing less.