Final Words & Conclusion
Final Words & Conclusion
Do more with less, and use what you got. This is the generic thesis behind the Samsung 980, which is exactly that, generic. Through the testing suite one thing became apparent, the 980 is a trustworthy performer. In an attempt to offer a more commercially viable (value) product series to the market Samsung made some radical choices. They stripped the name EVO, for the single reason, this product is something different, a value entry product. As history has proven, and you've been able to read quite a number of DRMAless design SSD here on Guru3D.com, the HMB solution works well. Mandatory however is an OS that is compatible. And if you have windows 10 installed, updated, and patched, you're good to go. HMB only uses 64 MB of your system RAM, and is replacing the DRAM buffer on the NVMe SSD. The second trick that Samsung applied was to create a huge throbbing pSLC buffer. For the 1TB SSD, this means 160 GB of your NAND capacity is utilized to be written as SLC (single bit per cell writes), ergo offering you maximum performance as long as that pSLC cache is not depleted. Once you run out of storage space though, that pSLC cache will shrink, and the values will get slower when exhausted. For the 500 GB model that cache is 122 GB and for the 500 GB model still even 45 GB. Literally, the pSLC cache is where the magic happens for this SSD series. However, at the cost of your storage size, and once you run out, your write performance will drop with huge workloads. Ergo, a bigger SSD is a better SSD, the same goes for endurance levels.
Performance
Of course, we also need to acknowledge that Samsung offers a fast product on the NVMe platform. No matter what workload you'll have it'll be plenty fast enough for anything you need to do on a standard workstation or gaming PC, The overall throughput of the NVMe SSD is splendid but not far off from regular Gen3.0 x4 NVMe SSDs. We cannot see the SSD hit a TLC write hole anytime fast thanks to that huge dynamic pSLC buffering, however for the 250GB model that would be different as here that buffer is 45GB (which is still a lot actually). Thus overall is a very strong contender offering all the perf you need really. Endurance wise we'd steer clear of the 250GB model with 150 TBW though. 
Prices
With the 980 series, Samsung will start off with three models, perhaps there will be a 2TB version at pone point, however, is not presented just yet. The series is to be intended as a value proposition. 
250GB £45.99 / 51 EUR
500GB £64.49 / 74 EUR
1TB £119.49 / 139 EUR
Depending on the model you are looking at 13~14 cents per GB here, the 250GB model is, however, sitting close to 20 cents per GB. Unfortunately for Samsung, that's still too expensive, as remember brands like Sabrent offer the same performance at the same file sizes, often for less money. Currently, the NAND prices are fluctuating a lot though., so that makes this conclusion a bit more complicated. However compared to the 980 PRO we have to admit, this is a far more attractive product to purchase from that value point of view. Samsung will back the product with a 5-year warranty, that or the TBW value reached, whichever one comes first.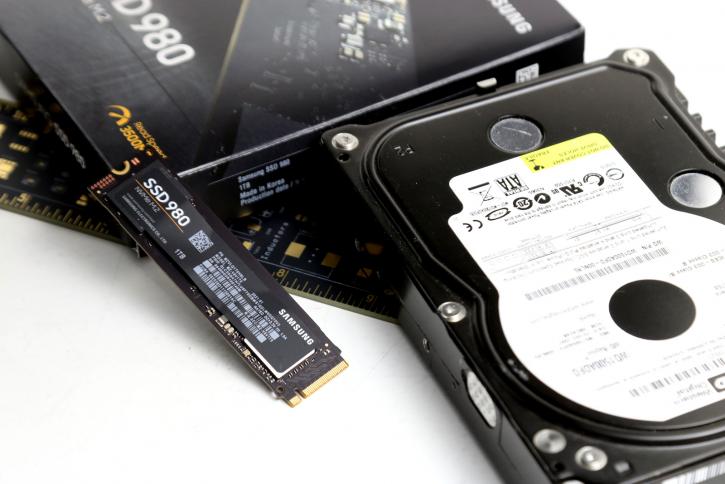 TLC Write holes
Technologies like TLC and QLC face some challenges writing more bits per cell of NAND, we, however, did not notice a dropoff in performance with mixed heavy workloads, so the dreaded TLC write hole did not kick in (and I do mean continuously sustained/linear writes minute after minute). See when then the SSD buffers are full and start to write directly to TLC NAND that could be an issue. This, in a nutshell, is what you need to be aware of with TLC and QLC SSDs. IOPS performance is good on this unit, really good. The overall workload traces also indicate this SSD to be extremely capable and fast. TBW values are okay for the 980 models. 600 TBW for the 1 TB model. Albeit how companies calculate or test these values these days, is a bit of a mystery. A listed TBW value, however, is something you can pin them on warranty-wise.
Concluding
In my previous HMB-based SSD reviews, I already indicated that this technology works sound. A fraction of your system memory is used as opposed to adding an extra chip on the SSD. In that last regard that saves on the bill of materials used for any manufacturer. That makes the 980 is a far more value proposition than even the 980 Pro as the 1TB model has exactly the same TBW values. The 980, however, is a more 'normal' NVMe SSD, and as such Samsung, it is in uncharted territory with lots of other boats in that digital ocean. The 980 sits at pricing that others also offer. other brands will offer an onboard DRAM cache, the same of faster performance, and the same warranty. So in that regard, this SSD is more of the same that we've seen for two years now already. Typically Samsung offered SSDs that sat in their own niche, there was Samsung, and then the rest. That picture however isn't the same anymore as really, this SSD is just that, more of the same. Admittedly, Samsung needs a product like this in the market, that being a more value aimed product.
Value doesn't mean bad, contrary, it's a fabulous performing product, that pSLC VIVO buffer is a bit of magic all by itself, especially on the 1TB model at 160GB writes before you hit any sort of TLC hole, that's value. Remember though that with smaller volume sizes, that bugger also is smaller as well as overall performance. Any gaming or mainstream workload PC will be a perfect match for this SSD. Trace testing shows really good values, sustained and linear things are a bit more normal. But that average is maxed out at close to PCIe gen 3.0 performance/bandwidth levels, and there's just nothing wrong with that. We can wholeheartedly recommend the Samsung 980 500GB and 1TB models, the 250 GB model I'll frown upon a bit due to the TBW value and lower performance, however in a laptop that 250 GB could last you the lifetime of that laptop. In your big throbbing game PC however, go bigger as we do recommend 1TB for the many reasons I've highlighted. Samsung backs the 980 series with a 5-year warranty or that TBW value reached. The 1TB model definitely is approved, we do hope that prices soon will settle at 10 cents per GB, as that's what everybody is aiming and gaming at. Well, that and even bigger volume sizes of course.