AMD HD3D | UVD3 | Eyefinity
AMD HD3D
All new is AMD HD3D - it is comparable to NVIDIA's 3D Vision and thus brings 3D display support for games, movies and videos to the AMD Radeon lineup of graphics cards. This of course will require separate 3D Goggles. HD3D includes support for Blu-ray in 3D third-party 3D applications.
The new implementation is very tricky and in it's default setup, far far away from what NVIDIA's does (and I do mean that in a negative way). Now, 3D Blu-ray support will only need you to have the right hardware (glasses, graphcis card, 3D TV/monitor HDMI 1.4a cable) and a software playback solution supporting it.
3D gaming wise... AMD waved everything away, and that's where we think AMD HD3D is going to fail.
There are no kits, there is no real driver support within the Catalyst drivers. You can play games in 3D yet you'll need to actively get support for this yourself. Meaning AMD handed out 3D game support to 3rd party vendors. To get 3D game support you must buy software from a company like DDD (Dynamic Digital Depth), the software implementation costs 50 USD. This will allow you to play games in 3D, unfortunately these known methods in the past always have proven to be a little icky with lack of native game support. Next to that you'll need to seek and purchase a 3D Monitor with goggles and/or find a kit that provides these.
We're sure that the actual 3rd party vendors really like this as it will boost their sales, we however doubt very much the end-user will share that sentiment as well.
Universal Video Decoder 3.0
UVD, short for Universal Video Decoder, synonym to the video processors embedded into the GPU of the graphics card. With proper 3rd party software like WinDVD or PowerDVD or the free Media Player Classic you can enable support for UVD which provides hardware acceleration for media content like MPEG2, H.264 and VC-1 high definition video formats used by Blu-ray.
In short, this feature allows the video processor in the GPU to apply hardware acceleration and video processing functions while keeping power consumption & CPU utilization low on your movies and video's.
That means a low CPU utilization whilst scoring maximum image quality. Over the years this engine has advanced and it's really not massively different opposed to the older UVD engines but we do see some new tweaks. Dual stream decoding was already introduced in UVD2. So for example, if you playback a Blu-ray movie and simultaneously want to see a director's commentary (guided by video) you can now look at both the movie and in a smaller screen see the additional content (like picture-in-picture). Obviously this is Blu-ray 2.0 compatibility here, and the additional content is an actual feature of the movie. But definitely fun to see.
UVD 3.0 allows for
Hardware acceleration decode of two 1080P HD streams
Compatible with Windows Aero mode - playback of HD videos while Aero remains enabled
Video gamma - independent gamma control from Windows desktop.
Brighter whites - Blue Stretch processing increases the blue value of white colors for bright videos
Dynamic Video Range - Controls levels of black and white during playback
Dynamic Contrast Enhancement will improve the contrast ratios in videos in real-time, on the fly. It's a bit of a trivial thing to do, as there are certain situations where you do not want your contrast increased.
Another feature is Dynamic Color Enhancement. It's pretty much a color tone enhancement feature and will slightly enforce a color correction where it's needed. We'll show you that in a bit as I quite like this feature; it makes certain aspects of a movie a little more vivid. New in UVD3 is now managing entropy and bit stream support for MPEG2 and MPEG4 DiVX/xVID movies, and also there is of course hardware support for Blu-Ray 3D's multi-view codec. Have a peek at the above block diagram demonstrating that.
To be able to playback high-def content you'll still need software like WinDVD or PowerDVD, a HD source (Blu-ray player) and a HDCP capable monitor or television.
For those interested in MKV / x.264 GPU based content acceleration, playback and image quality enhancements, please read this guide we have written. We spotted this lovely little free application to manage this.
Bitstreaming audio
Directly tied to the UVD3 engine is obviously also sound. AMD's Radeon series 3000, 4000, 5000 and now 6000 cards can pass lossless sound directly through the HDMI connector. This has been upgraded as it's now possible to have 7.1 channel lossless sound 192kHz / 24-bit. The HDMI audio output follows HDMI standard 1.4a and supports Dolby True HD and DTS-HD audio. Obviously there is also support for standard PCM, AC-3 and DTS. HDMI 1.4a allows bitrates up to 65Mbps and 3DTV.
So with an AMD Radeon HD 6800 Series video card, all you need to do is install the card into your motherboard and connect it to your receiver with an HDMI cable. As the AMD Radeon HD 6870 or AMD Radeon HD 6850 card removes the need for a separate sound card.
Requirements
Playback software , say CyberLinks PowerDVD 9 or newer
AV receiver that supports Blu-ray player support Dolby TrueHD / DTS-HD Master Audio (HDMI v1.3 compliant)
Two HDMI cables (male to male connectors, rated at 225MHz or higher)
Appropriate speaker cables for your surround sound speaker system
HDMI 1.4a - HDMI has been updated to the latest version 1.4a, which was released last March. 1.4a adds support for the two mandatory 3-D format (Side-by-Side Horizontal & Top-and-Bottom), which was dropped from the original 1.4 version. So supported are all the new 3D TVs and for the geeks, the new HDMI Frame packing format.
Monitor connectivity - Eyefinity
You guys will notice that the new 6800/6900 series cards have a plethora of monitor connectors. Quite a bit has changed. The reference design cards will carry two mini Displayport (v1.2) connectors, one HDMI 1.4a connector and two DVI connectors of which one is single link, the other dual-link.
Display ports is now up-to snuff at revision v1.2 and that allows for a lot of extra bandwidth, in fact per connector you could drive up-to three monitors, so if you use both DP 1.2 connectors, up-to 6 monitors will be supported. Unfortunately that isn't all, connecting six monitors to two display port connectors will require an external breakout-box or monitors that support daisy chain (very expensive). The external breakout-box I mentioned will be called a MST HUB (Multi Stream Transport), to date pricing and availability for that is unknown.
Of course you can configure Eyefinity as you please, through multiple monitors per DP connector, or one at a time with the help of the DVI connectors.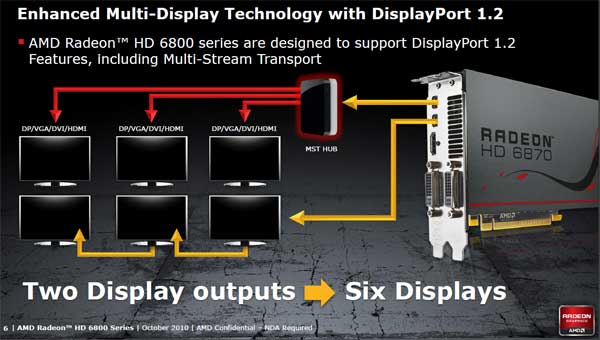 DP 1.2 can support six monitors per two connectors, but will require a breakout box or daisy chain compatible monitors. So really you are back to three easy-to-connect monitors. We advise three monitors as maximum for Eyefinity anyway.
Eyefinity
An exciting feature that started in the Radeon series 5000, and now continued on the 6000 series graphics cards is Eyefinity. You will have no problem connecting say, three 30" monitors at 2560x1600. The graphics card can take that resolution and in fact combine the screen resolution and play in it.
ATI's Series 6000 graphics cards will be able to drive one to six monitors per graphics card depending on the limitations we just mentioned in the previous chapter about monitor connectivity. We've tested this live in action, and Eyefinity works really nicely. You can combine monitors and get your groove on up-to say 7680x3200 pixels separated over several monitors -- multiple monitors to be used as a single display.
So some examples of what you can do here:
Single monitor setup at 2560x1600
Dual monitor setup at 2560x1600 per monitor
Three monitors setup at 2560x1600 per monitor
Six monitors setup at 1920x1080 per monitor
Eyefinity is a really nice feature, and sure we also understand that 99% of you guys will never use more than two monitors. That other 1% definitely matches the Guru3D audience. Personally I like to game on three screens. It's really immersive. If you are bold enough to go for a multi-monitor setup, it really is ideal to get three screens for flight sims, racing games, role playing games, real-time strategy (Huge maps!), first-person shooters and sure, even multimedia apps.
We have two reviews available on Eyefinity:
Radeon HD 5870 Eyefinity (three monitors) review - click here.
Radeon HD 5870 Eyefinity6 (six monitors) review - click here.
Eyefinity is modular and thus allows users to rearrange the number of discrete images created in addition to their shape according to your liking. Guru3D users and gamers will no doubt find this setup to their liking. It will be interesting to learn just what kind of living room you have if you were to employ such a configuration. Please post your setups in our forums, we'd love to hear from you.