Product Showcase
Product Showcase
Alright... photo's! A couple of pages with photos then and most of it from our own photo-shoot :)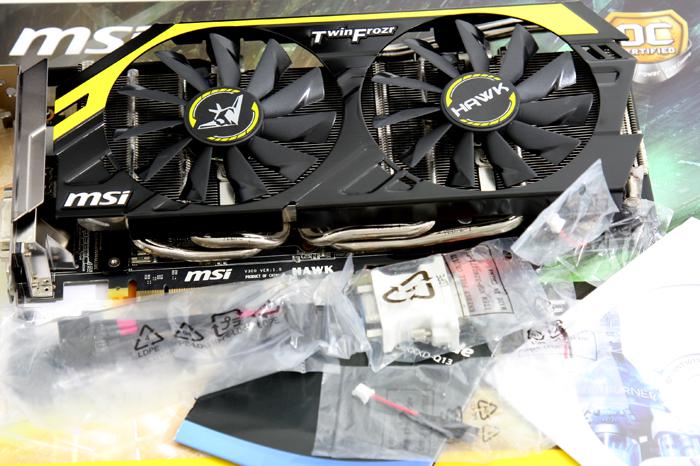 Inside the packaging next to the card and the standard stuff you'll find a few extra's like voltage monitor wires (which you can use with a digital multimeter to monitor voltages, but also 6-pin to 8-pin power converter cables as this card has two 8-pin power connectors. The card has an improved PCB (eight layers) with a 6 phases PWM design and another 2 for memory. 
Above and below is the card, the MSI GeForce GTX 760 HAWK with that familiar yellow themed TwinFrozr IV cooler, the card is a 2GB model. We expect the product to retail for roughly 269 EUR/USD, but do hope the price will drop a bit in the next few weeks. We always have hopes for a 4GB version with the high-end SKUs, but the card will come with two GB of graphics memory, that's definitely sufficient if you are a hardcore gamer with a monitor resolution of 1920x1200. If you plan to game on triple monitors then 4 GB models would be my preference though, as that would definitely help you out in the uber high resolutions and hefty AA combinations. 
With the GeForce GTX 760 you will receive four display connectors, you'll spot a full size Display port connector, one full size HDMI connector and two DVI connectors (dual-link). You can combine these connectors to setup a surround view (multi-monitor) setup. One card will give you more than sufficient performance to play your games on three monitors.
To date we still receive this question a lot, but dual-link DVI does not mean you can hook up two monitors to one connector. Dual-link means double the signal, that way monitor resolutions over 1920x1200 can be supported or you could use a 120Hz monitor. So explained very simple, dual-link DVI supports high-resolution (above 1920x1200) or high-refresh rate (120Hz) monitors. As you can see MSI has a mesh / opening above the connectors, this helps exhausting hot air.
MSI offers this HAWK 2GB edition factory clocked for you at a terrific 1111 MHz with a Boost clock of 1176 MHz. And as our article will show later on, there's room for tweaking as we got this puppy running stable at 1372 MHz on the boost frequency. The card is 10.2 Inches in length which is like 26 cm.