Image quality settings and benchmark system
Image quality settings and benchmark system
We use a frametime run with the maxed out quality presets, ultra where we can and very high when we hit a maximum setting. We will test a good number of cards in this D3D11 title performance wise. We flick the maximum quality settings at High and Ultra before each resolution run and disable VSYNC. Games typically should be able to run in the 40 FPS range combined with your monitor resolution. From there on-wards you can enable/disable things if you need-more performance or demand even better game rendering quality.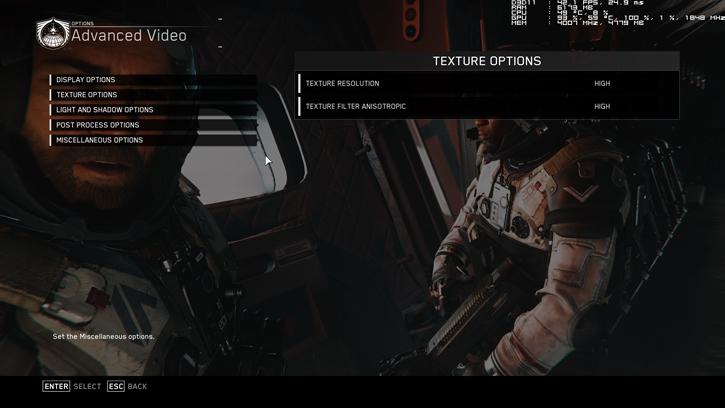 If you like a bit more crisp detail in your game and have the graphics card to do so, play around a bit with super sampling.
 The graphics cards tested
In this review we'll test the following cards at the best PC experience, a maxed out quality mode (Ultra and Very high wherever possible) with VSYNC OFF. Today we'll use a selection of 23 graphics cards in this test. 
GeForce GTX 1050
GeForce GTX 1050 Ti
GeForce GTX 1060 (6GB)
GeForce GTX 1070 
GeForce GTX 1080 
GeForce GTX 950 (2GB)
GeForce GTX 960 (2GB)
GeForce GTX 970
GeForce GTX 980
GeForce GTX 980 Ti
GeForce GTX 780Ti
GeForce GTX Titan
GeForce Titan X (Maxwell)
NVIDIA Titan X (Pascal)
Radeon R9 380X (4GB)
Radeon R9 390 (8GB)
Radeon R9 390X (8GB)
Radeon R9 Fury
Radeon R9 Fury X
Radeon R9 Nano
Radeon RX 460 (4GB)
Radeon RX 470 (4GB)
Radeon RX 480 (8GB)
System Specifications & recommended drivers
Our test system is based on the eight-core Intel Core i7-5960X Extreme Edition with Haswell-E based setup on the X99 chipset platform. This setup is running tweaked at 4.30 GHz. Next to that we have energy saving functions disabled for this motherboard and processor (to ensure consistent benchmark results). We use Windows 10 all patched up. Each card runs on the same PC with the same operating system clone.
The drivers are:
GeForce cards use the latest 375.70 driver (download drivers).
Radeon graphics cards we used the latest

AMD Radeon Crimson 16.11.1 Driver

 (download drivers).

 
Our test PC was outfitted with this heavy setup to prevent and remove CPU bottlenecks that could influence high-end graphics card GPU scores. Let's head on-wards to the next page where we'll look at some screenshots and then start measure several monitor resolutions in terms of relative performance versus quality settings.