Product Innards
Product Innards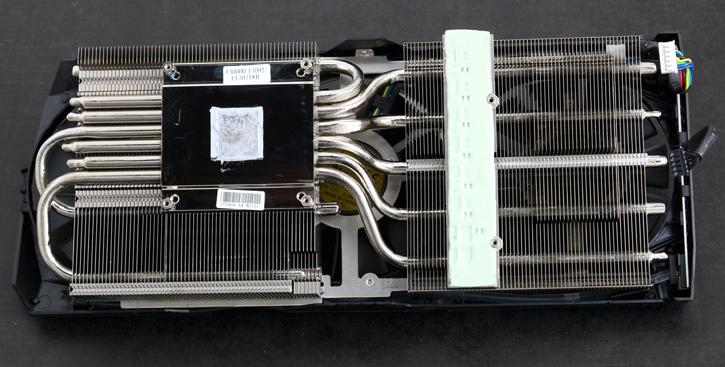 The cooling solution is impressive overall, it uses six heat-pipes that pass through a heatsink, with thermal paste tied to the all-copper yet nickel plated block. That's as good as it gets really, and sure, that shows in the great cooling performance.
When we flip the PCB it around you can also see that the critical components are covered with a contact plate, the memory lacks padding, the phase chokes are however cooled. With the cooler blocks removed, we now have the full PCB visible. This is a very clean PCB design alright. Let's run through some of the components. Critical components are covered and padded, The power stages have padding as well and thus is cooled as well as most ICs. We can now see the power stages, GPU, memory and voltage phase-controller.
  
Here we have the GP104-300-A1 graphics processor from Nvidia with its 2,432 active CUDA / Shader Cores. 
 
GDDR5 memory chips (D9TCB) are made by Micron and are specced to run at 8,008 MHz GDDR5 (effective data-rate). Tweaked you are looking at a capability of roughly 8,600 ~ 9,000 MHz (effective data-rate).
  
   
You can count them, seven phases, six for the GPU. We first stumble into capacitors, in the middle where it reads SAPII graffiti style, that is a molded inductor (chokes). These concrete alloy chokes help to decrease buzzing noises. And the square chips to the right are SAP MOSFETs, for ASUS they use DrMOS. The power phases are nicely cushioned with thermal padding reaching that cold-plate on the cooler. 
The photo reveals a UPI based uP9511P voltage regulator, a recent and much-used model voltage controller for many NVIDIA GP104 GPU based graphics cards. uP9511 can be configured in 8/7/6/5/4/3/2/1-phase operation and if you counted with me there are 6 of them + 1 for memory.
 
We still need two phases for memory, above a UPI Semiconductor uP1666 which is a two-phase buck controller. This card uses a 6+1 phase design, 6 phases are used for the GPU and 1 phase is used for the memory. uP1666 doubles that up for the memory.
 
 
Situated a little higher we can spot an ITE 8915FN, this chip is used for monitoring and manage the current of the card.