Kingdom Come: Deliverance PC graphics performance benchmark review - Image quality and performance

by
Hilbert Hagedoorn
on:
02/13/2018 07:18 PM
[
]

49 comment(s)
Tweet
Image quality modes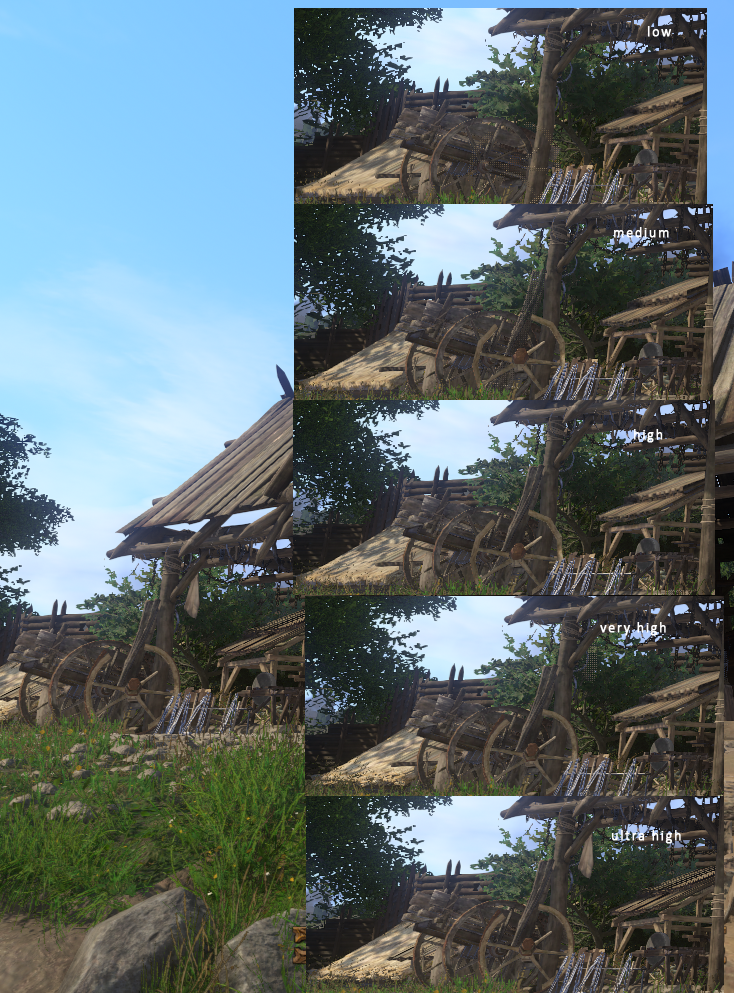 Above you can see low, medium, high, very and ultra high-quality modes. From top to bottom the difference look small but look at stuff like the following:
look at the wheels, from polygons to round
look at shadow quality at the rear boarding
look at the towel, only present at ultra-high
If you'd like to have a look at the uncompressed raw images to compare in detail, you can download them here:
So, this game offers multiple preset quality settings modes. Differences in low and medium quality modes are mostly based on AA settings, shadows and from there onwards with the high and ultra quality modes, texture quality. We'll look at performance differences with the help of some benchmarks. Pretty much any modern age graphics card can run very high-quality settings quite easily, which we'll use today.
The ultra-quality preset is obviously the best-looking mode available, above you can see a GeForce GTX 1070 at work. If you look at Quad HD (2560x1440) you'll scale from say 40 FPS on average, towards 70 FPS in the low-quality mode.

These days 1920x1080 pretty much any card can achieve good framerates. Up-to Full HD (1920x1080) most 3~4 GB graphics cards of decent caliber should do the job well. Likely 4 GB or more will be sufficient for 2560x1440 as well. If you want to play Ultra quality with Ultra HD as preferred monitor resolution, 6GB or better is always advised but in this game, likely not needed.
Related Articles
© 2020