RightMark RAMTester Utility
The RAMTester tool checks reliability of memory modules under MS Windows (x86 and x64), working with virtual addresses. It writes various bit patterns into memory cells and then reads them and compares with reference. Note that the check is qualitative, so you might want to use utilities working with real addresses under DOS to obtain more quantitative data.
The new tool works only with free available physical memory at runtime, so you can check any amount of memory that doesn't exceed this limit. For the amount of currently free available memory you can check Windows Task Manager ("Physical Memory Available" in the Performance tab). The new utility works with SMP and HTT systems as well as various memory types, including SDRAM, DDRAM, RDRAM, etc.
Changes to this version include:
Testing methods improved
Memory compacting function added
UI a bit changed
New i18n resources added
Full source code released with i18n kit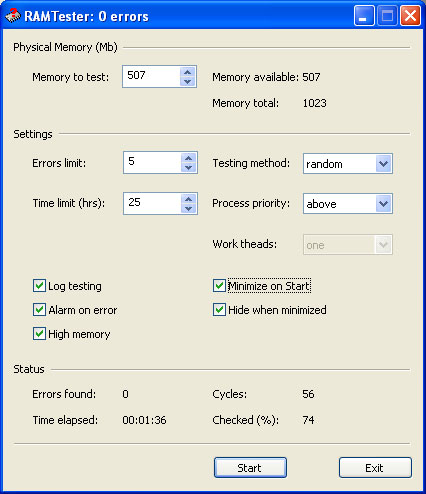 Download Locations
Guru3D.com © 2022