Download: Fraps 2.9.5 Released
Fraps is a universal Windows application that can be used with all games using DirectX or OpenGL technology to record movies in-game or measure it's framerate.
Fraps is a universal Windows application that can be used with games using DirectX or OpenGL graphic technology. In its current form Fraps performs many tasks and can best be described as:
Benchmarking Software - Show how many Frames Per Second (FPS) you are getting in a corner of your screen. Perform custom benchmarks and measure the frame rate between any two points. Save the statistics out to disk and use them for your own reviews and applications.
Screen Capture Software - Take a screenshot with the press of a key! There's no need to paste into a paint program every time you want a new shot. Your screen captures are automatically named and timestamped.
Realtime Video Capture Software - Have you ever wanted to record video while playing your favourite game? Come join the Machinima revolution! Throw away the VCR, forget about using a DV cam, game recording has never been this easy! Fraps can capture audio and video up to 2560x1600 on dual-core CPUs (1152x864 single-core) at up to 100 frames per second.
The latest Fraps 2.9.x releases add support for Vista and DirectX 10 games. With games starting to appear using DirectX 10 graphics we are happy to report that benchmarking, video capture, and screenshots are now all fully supported for these titles.
Added
Stereo & Multichannel recording options for Direct Stream audio in Vista
Support for many DDRAW games running in windowed mode
Support for games that use multiple swapchains in D3D9
Large size icon for Vista
Fixed
Slow video capture speeds recording many older DDRAW games
Capture crash for DDRAW games in XP SP3
Misaligned audio with Vista Direct Stream when sound was silent
64-bit OpenGL apps not being detected
Long delay starting video capture on some Vista configurations
Crash in Fraps if video capture key pressed quickly in succession
Fraps exit dialog appearing at random intervals
"This program might not have installed correctly" error in Vista
Corrupted volume slider in Vista when Fraps loaded
Scrambled colors when recording in 8-bit and 16-bit from some older games
Crash loading levels in Wolfenstein: Enemy Territory
Download - Click here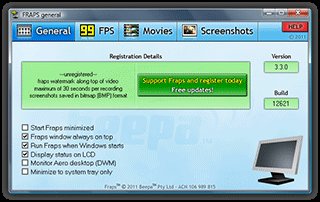 Related Stories